Dual SIM Quad Ethernet ports, RS-232 and RS-485 serial ports, Digital inputs for event detection
Quad Ethernet ports
SMS commands
RS-232 and RS-485 serial ports
Digital inputs for event detection
Relay contact options
Extended list of routing protocols
Security features
Protocol conversions Relay contact options, Interface connectivity monitoring
Centralised management and monitoring
The versatile 2G/3G/LTE wireless router is suitable for a variety of industrial deployments. The compact structure makes it excellent for M2M applications like SCADA, telemetry and intelligent traffic systems. The router supports the following radio access technologies: LTE, HSPA+, HSPA, UMTS, EDGE, GPRS and GSM.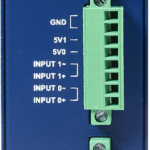 ---
SATEL Cellular Routers Brochure
SATEL's radio technology can be used in cooperation with adjacent technologies such as cellular. The SATEL XPRS is a data communications solution offering the most reliable long-range data connectivity and the highest availability for mission-critical applications under all circumstances. SATEL-GW cellular routers complement the solution. The co-operation of adjacent technologies adds even more reliability, predictability and security to the network's connectivity. The varying system requirements such as different investment profiles and increasing redundancy and performance demands are met with availability as high as 99,999%.