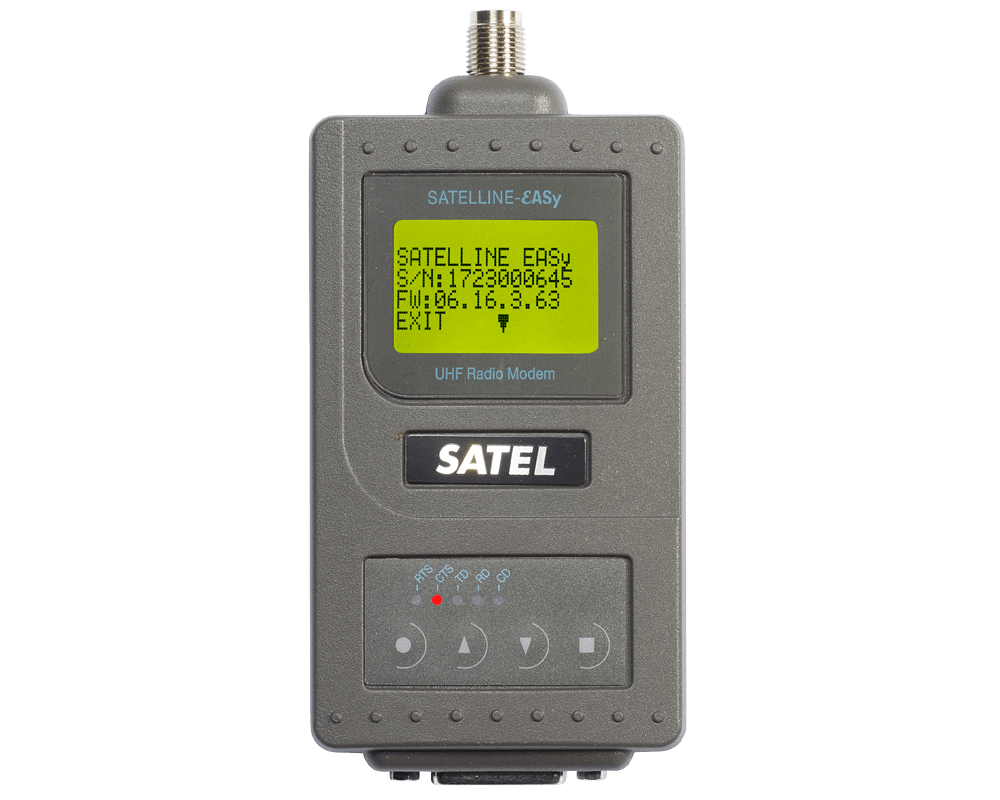 SATELLINE-EASy, Compact-Proof, EASy-Proof user guide V10.2
SATELLINE-EASy brochure 400 and 869 MHz
| | |
| --- | --- |
| Frequency range | 330…420 MHz / 403 … 473 MHz |
| Tuning range | 90 MHz / 70 MHz |
| Channel spacing | 12.5 / 20 / 25 kHz selectable |
| Sensitivity/Carrier power | -114 dBm / 1 W |
| Interface | Port1: RS-232 fixed | Port2: RS-232 / 422 |
| Data speed | Radio 19200 / RS 38400 bps |
| Operating voltage | +3 … +9 / +6 … +30 VDC |
| Power consumption | RX 1.2 W / TX 7 W |
| Size/Weight | 137 x 67 x 29 mm / 250 g |
| Connectors | D15 / TNC female |
SATELLINE-EASy is provides a compact and flexible solution for many different long-range applications. It can be equipped with an LCD and push buttons for facilitating the configuration of the radio modem. SATELLINE-EASy has two operating voltage levels to choose from and low power consumption.
Wide 90 MHz / 70 MHz tuning range (330…420 MHz / 403 … 473 MHz)
Selectable channel spacing 12.5 / 20 / 25 kHz
Operating voltage level options: +3 … +9 Vdc or +6 … +30 Vdc
Compatible with SATELLINE-EASy Pro and -3AS Epic modems
Models with AES128 encryption support available
The configuration of the radio modem can be made with a terminal program or a SATEL Configuration Manager. SATELLINE-EASy is compatible with SATEL radio modules and high power products, and with SATEL additional equipment e.g. SATELLINK products.
Available models and product codes:
SATELLINE-EASy, without display (YM6500 / YM6505)
SATELLINE-EASy, with display (YM6550 / YM6555)
SATELLINE-EASy, without display, with AES128 encryption support (YM6510 / YM6515)
SATELLINE-EASy, with display, with AES128 encryption support (YM6560 / YM6565)